PDA window decals ($3) and cookbooks ($10) are available for purchase in the office. Contact
sbaker@peedeeacademy.org
for more information.




Click
here
to support PDA by shopping on Amazon.com. PDA will receive 0.5% on all eligible purchases made through Amazon Smile.
Keep sending in your BoxTops! Last school year PDA made $1,743 on BoxTops!

Lower School students turn them into your teacher so your class can get credit. Each month the class with the most Box Tops collected will recieve a prize and at the end of the year the class who was collected the most Box Tops for the year will receive a Pizza Party!

Upper School Students can turn in box tops to their Homeroom teacher or the PDA office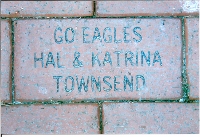 Another Brick In The Walk
The Pee Dee Academy Student Council is offering PDA Family and Friends the opportunity to participate in the brick sale to honor or to remember any special person or group. Bricks are being sold for $35 each and may contain up to 3 lines with up to 14 characters per line (including spaces and punctuation). The bricks will be used to pave the walkways around the gazebo in front of the canteen.
Be a part of PDA history! Send the below information with your check made payable to Pee Dee Academy to the school office. If purchasing more than one brick, please list all information separately. Thank you for supporting PDA!


Name of Purchaser: _________________________________________________
Address: ___________________________________________________________________
Phone: ____________________ Email Address: __________________________________
Name and/or Message To Appear On Brick:
____________________________________________________________________________
____________________________________________________________________________
____________________________________________________________________________