All PDA graduates are encouraged to visit the Alumni page of the website and enter your information for our electronic mailing list.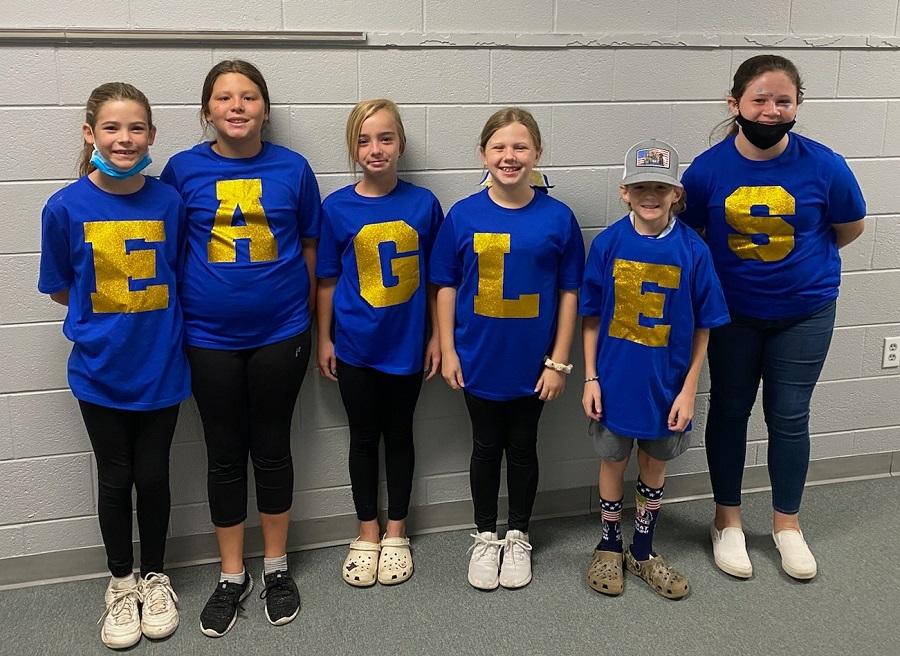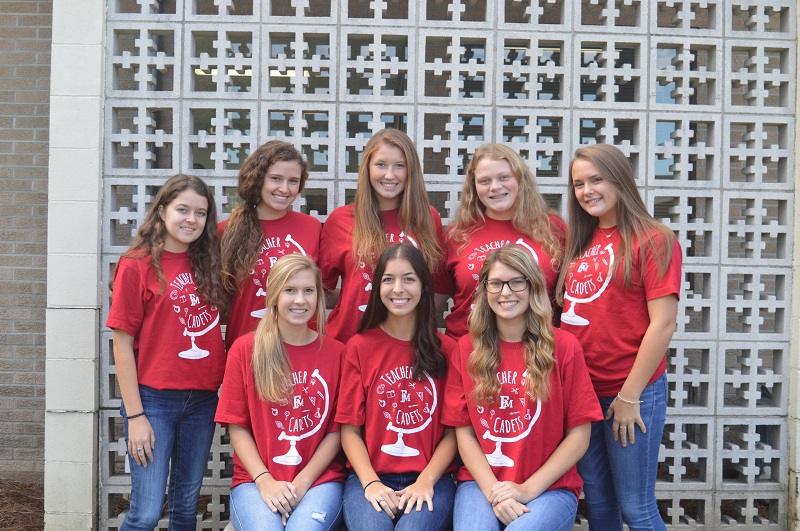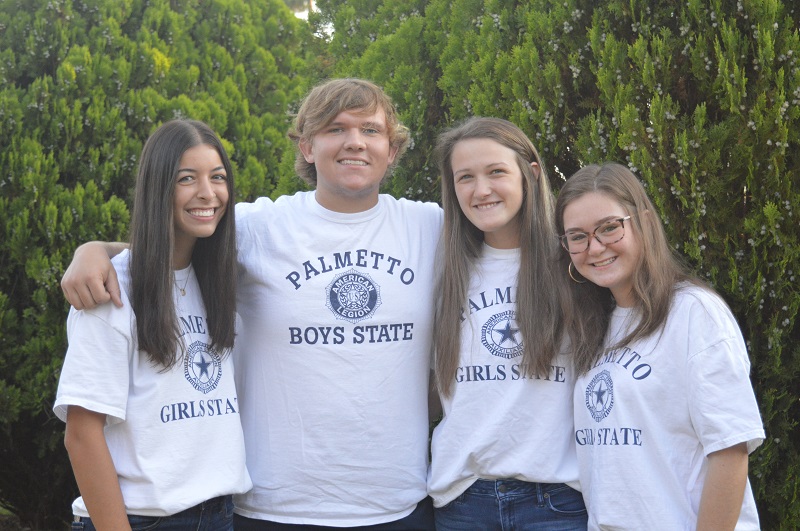 | | |
| --- | --- |
| | Congratulations to Van Thomas on winning the Co-Championship of the SCISA 2023 Fall Chess Tournament Middle School Division! |
Fire Prevention Week

On Friday, October 13th, the city of Marion Fire Department spoke to our lower school students about Fire Prevention Week.
Career Explorations Class Field Trip to Boeing

On

Tuesday, Sept 12th, Mrs. Heather's 8th

grade Career Exploration class took a field trip to Charleston, SC to visit Boeing, where the 787 airplanes are made. This program provides an opportunity for students to see how their skills and interest can be applied in the work force. Boeing has several opportunities for high school students and recent graduates to enter the workforce and then further their education.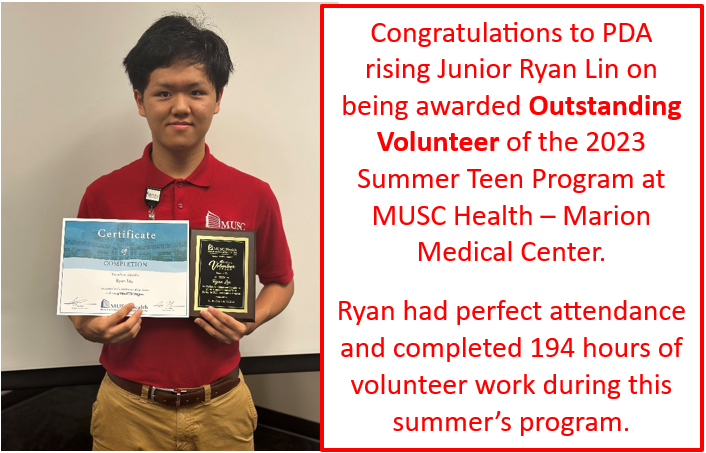 2022-23 School Year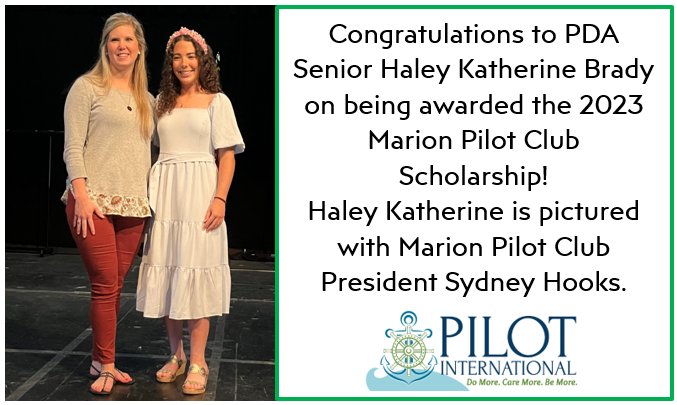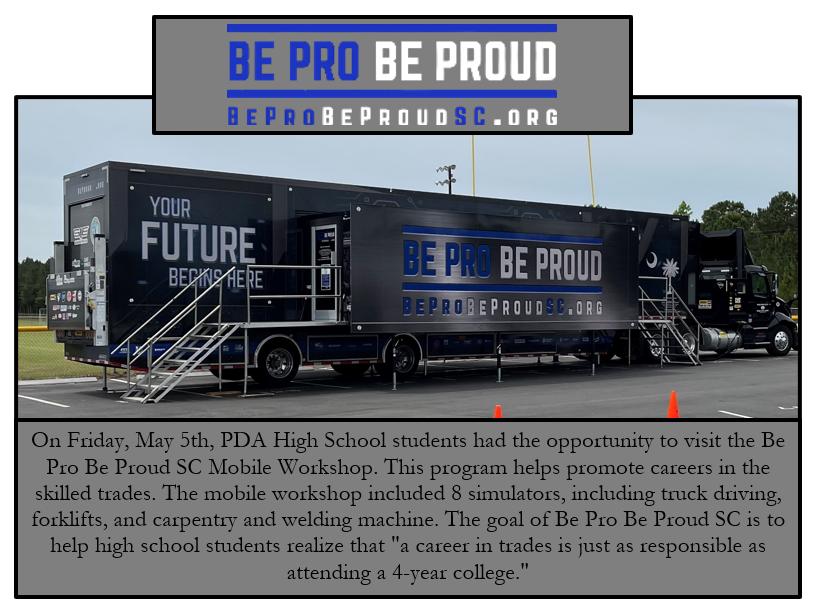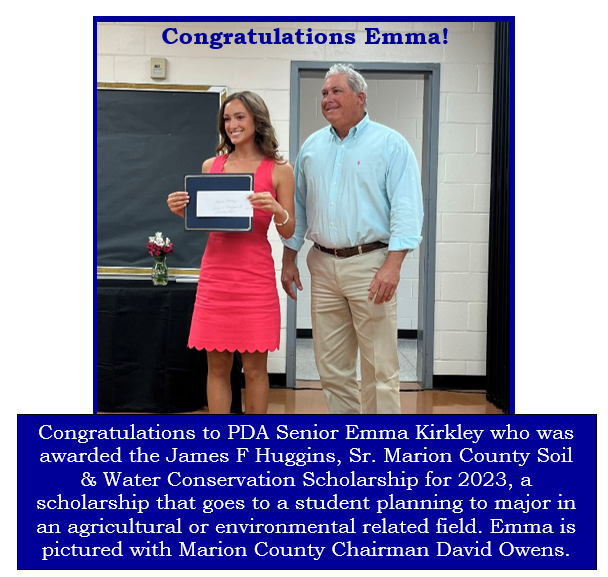 Jacob Rouse Earns Scholarship
Congratulations to PDA Senior Jacob Rouse on earning a $1,000 scholarship from the Hampton Wildlife Fund.

Jacob was the 2nd overall finisher in the school division of the SCDNR Clay Sports competition on February 11, 2023.
2023 S.C. Engineering and Physics Scholars Institute
PDA Students Landyn Tyler, Eli Meetze and Darren Yang attended the 2023 SCEPSI at Francis Marion University on Friday, December 10, 2023.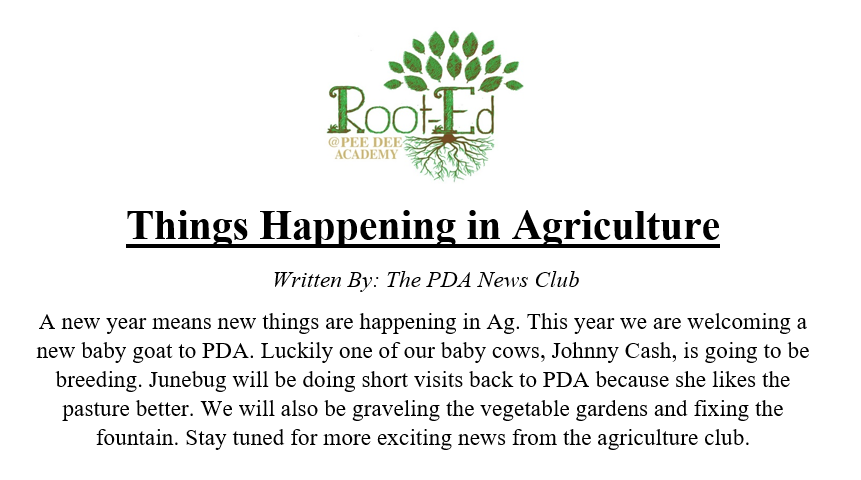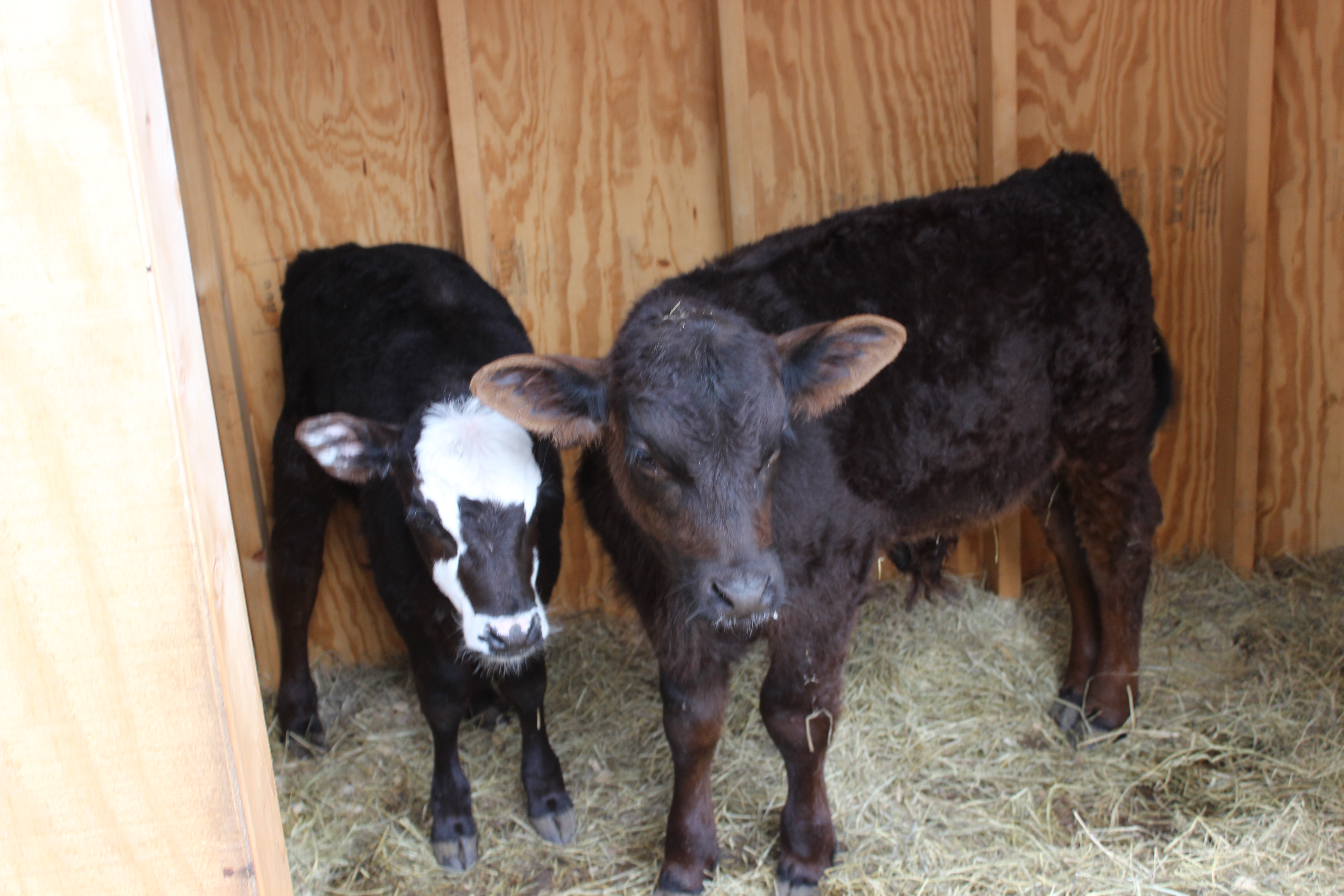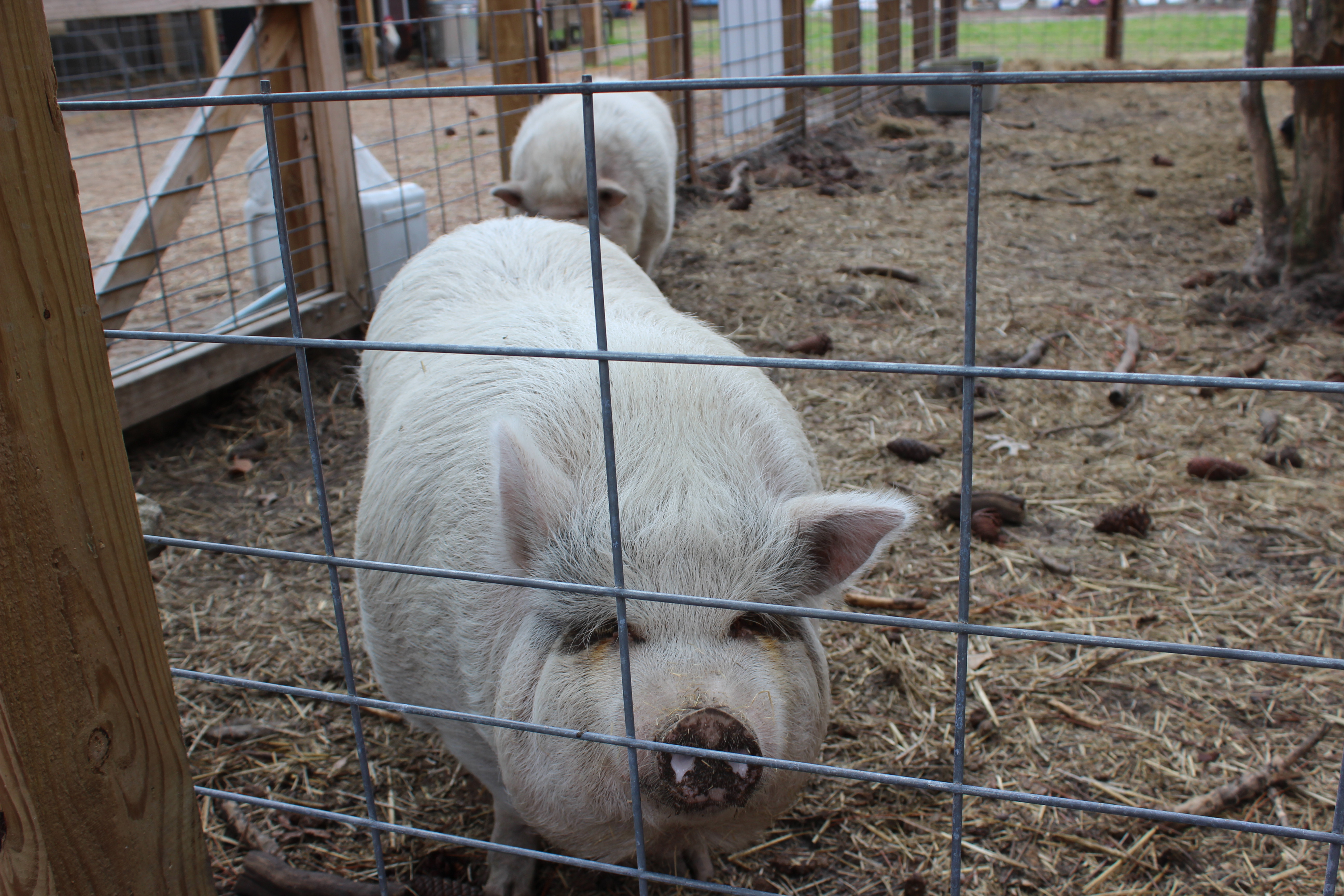 6th Grade Visits Wally's Farm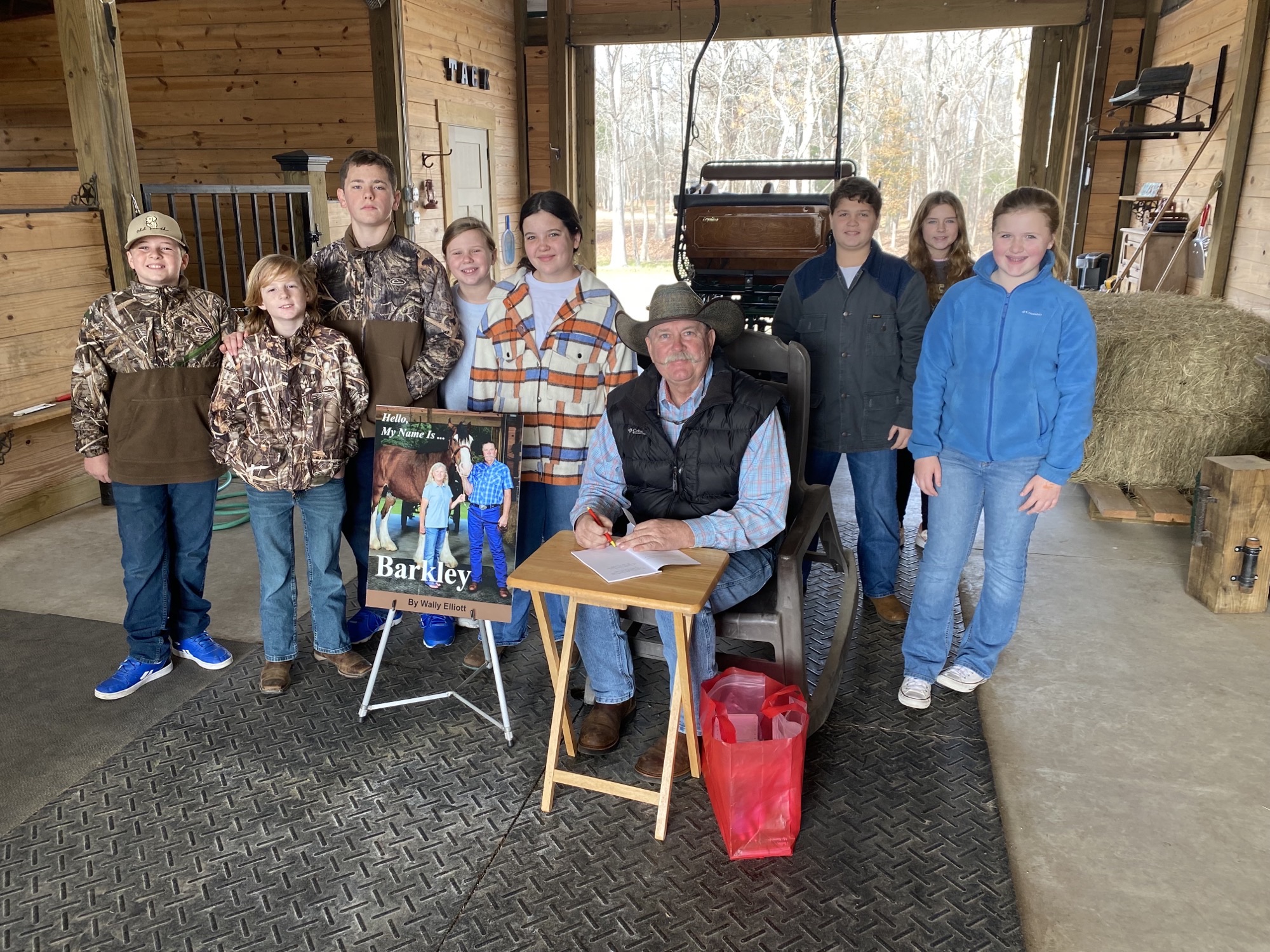 On Wednesday, January 11th, the PDA 6th graders visited Wally Elliott's farm and read his book
Hello, My name is...Barkley
as they prepare to study writing this 9 weeks.
2022 Palmetto Girls & Boys State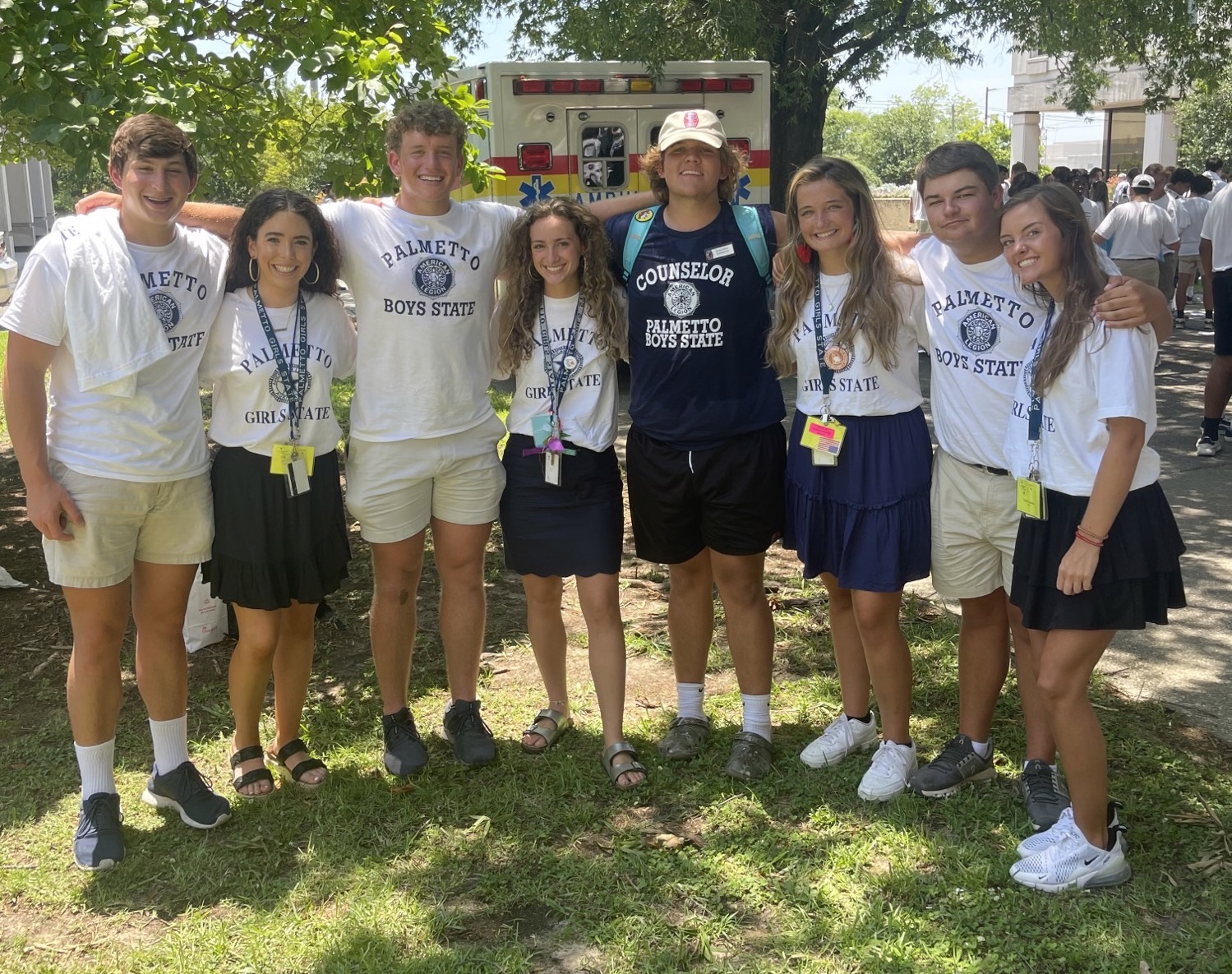 (L to R) Richard Smith, Haley Katherine Brady, Landyn Tyler, Emma Kirkley, Zachary Martin - Counselor, Ava Fowler, Tripp Spivey, Taylor Causey


Congratulations to the Class of 2022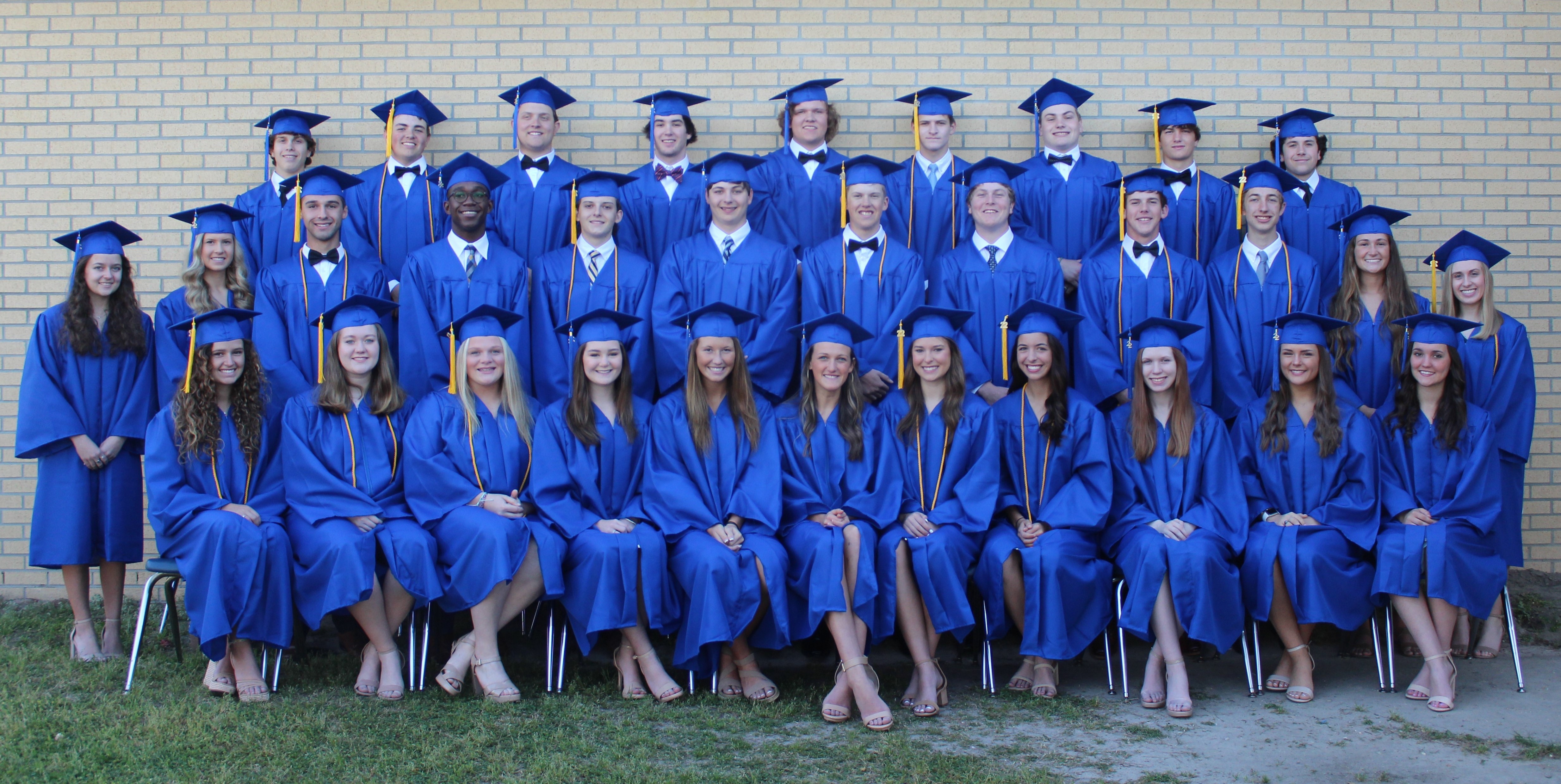 | | | |
| --- | --- | --- |
| PDA Booster Club Scholarship in Memory of Neal Naker | Will George Memorial Scholarship | Mary Ann Elvington Memorial Scholarship |
| | | |
| Senior Ashley Martin | Senior Dylan Carter, presented by Mrs. Helen George | Junior Haley Katherine Brady |
Class of 2022 College Decision Day
Coastal Carolina


Gavin Dutton, Riley Richardson

Clemson


Luke Carter, Hadleigh Herndon

Clemson Bridge


Kirsten Smith, Christopher Stepp, Allen Moore, Sarah Stepp

College of Central Florida


Reyn Watson

Charleston Southern
Mathew Kitchen
Florence-Darlington
Leah Johnson, Jack Hulon, Abigail Cooper, Colton Caulder, Allison Carter, Lane Cardwell, Allie Briley

Francis Marion




Hannah Bullard, Ansley Martin

Horry-Georgetown


Dylan Carter

Lander




Drew Singletary, Lauren Martin, Landon Gordon

Newberry




Zachary Martin

Presbyterian




Gracyn Hyatt

Tri-County




Coleman Kimbrell

South Carolina




Cameron Weston, Audra Jackson, Leevi White, Ashley Martin
2022-23 Student Council Officers

President - Richard Smith
Secretary - Callie Brooks
Vice President - Landon Nobles
Treasurer - Ava Fowler
Chaplain - Storm Garris
Faculty Adviser - Mrs. Wendy White
Allen Moore Wins Soil & Water Conservation District Scholarship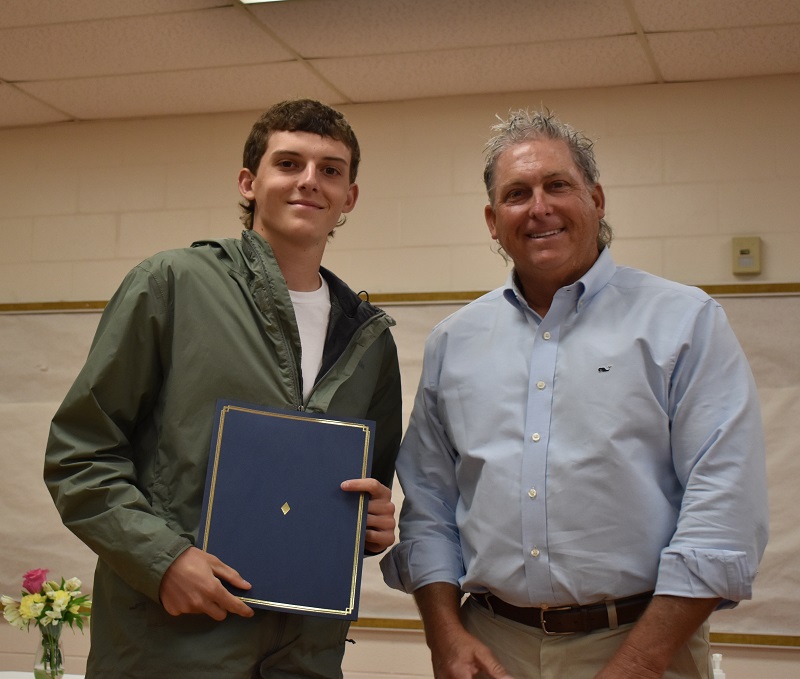 Congratulations to PDA Senior Allen Moore who won the James F Huggins, Sr. Marion County Soil & Water Conservation Scholarship, which is a scholarship that goes to a student majoring in an agricultural or environmental related field.
Soil & Water Conservation District Commissioner Bruce Baker with 6th

grade essay winners

Joy Gause - 1st,

Lauren Lambert - 2nd, and

Van Thomas - 3rd.

David Owens, Chairman of the Soil and Water Conservation District Commissioners with Ashton Hooks, who won 1st

Place in the 7th

grade Soil and Water Conservation Essay contest, with her teacher Cherry Willoughby.
The Agriscience Class welcomes Wilbur the Pig to PDA!
| | | |
| --- | --- | --- |
| | Congratulations Class of 2021! | |
| | | |
| | | |
| | | |

Congratulations to our 2021-22 Student Council Officers:
President: Leevi White
Vice President: Haley Katherine Brady
Treasurer: Drew Singletary
Secretary: Anna Hasty
Chaplain: Ashley Martin

2019-20 K-5 Graduation Video
Lower School Report Card Pick-Up Day - May 26, 2020
Honoring the Class of 2020
A Message to Our PDA Family...
2020 Mr. PDA Pageant
Congratulations to 2020 Mr. PDA TJ Smith!
2020 SCISA Music Festival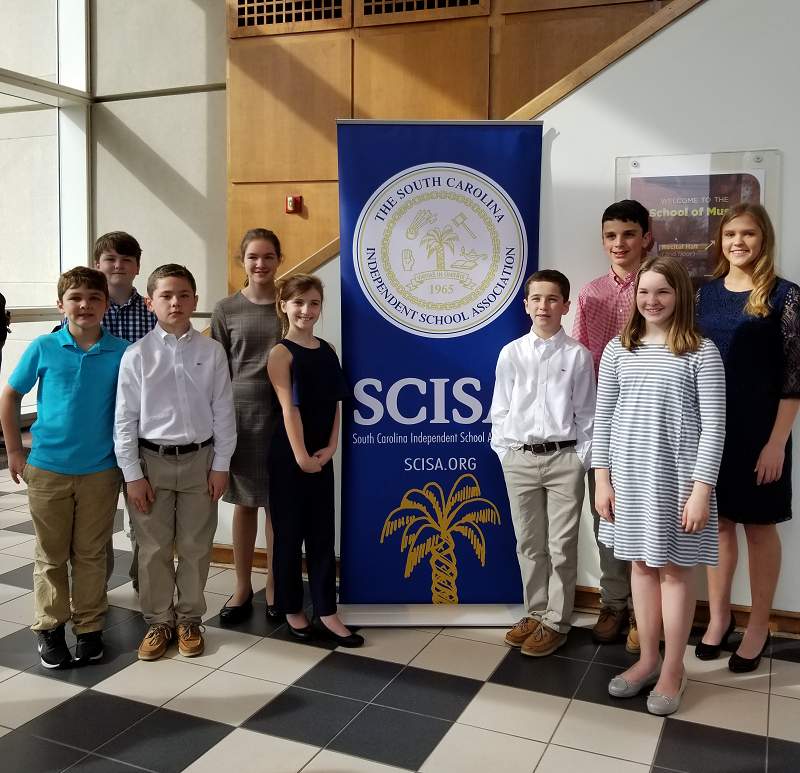 On Tuesday, March 10 nine students traveled to USC School of Music to participate in SCISA's annual Music Festival. Students sang, played piano and played guitar for professional judges and received gold and silver achievements with superior and excellent rankings. Senior Meredith Lane sang and played piano. Middle school students included Laynie Small, Dalton Watts and Jake Rogers, while students representing elementary students were Myra Baxley, Carson Small, Ridge Tucker and Rivers Tucker. Special thanks to Mrs. Lorie Ann Rogers who accompanied our vocalists.
SCISA State Spelling Bee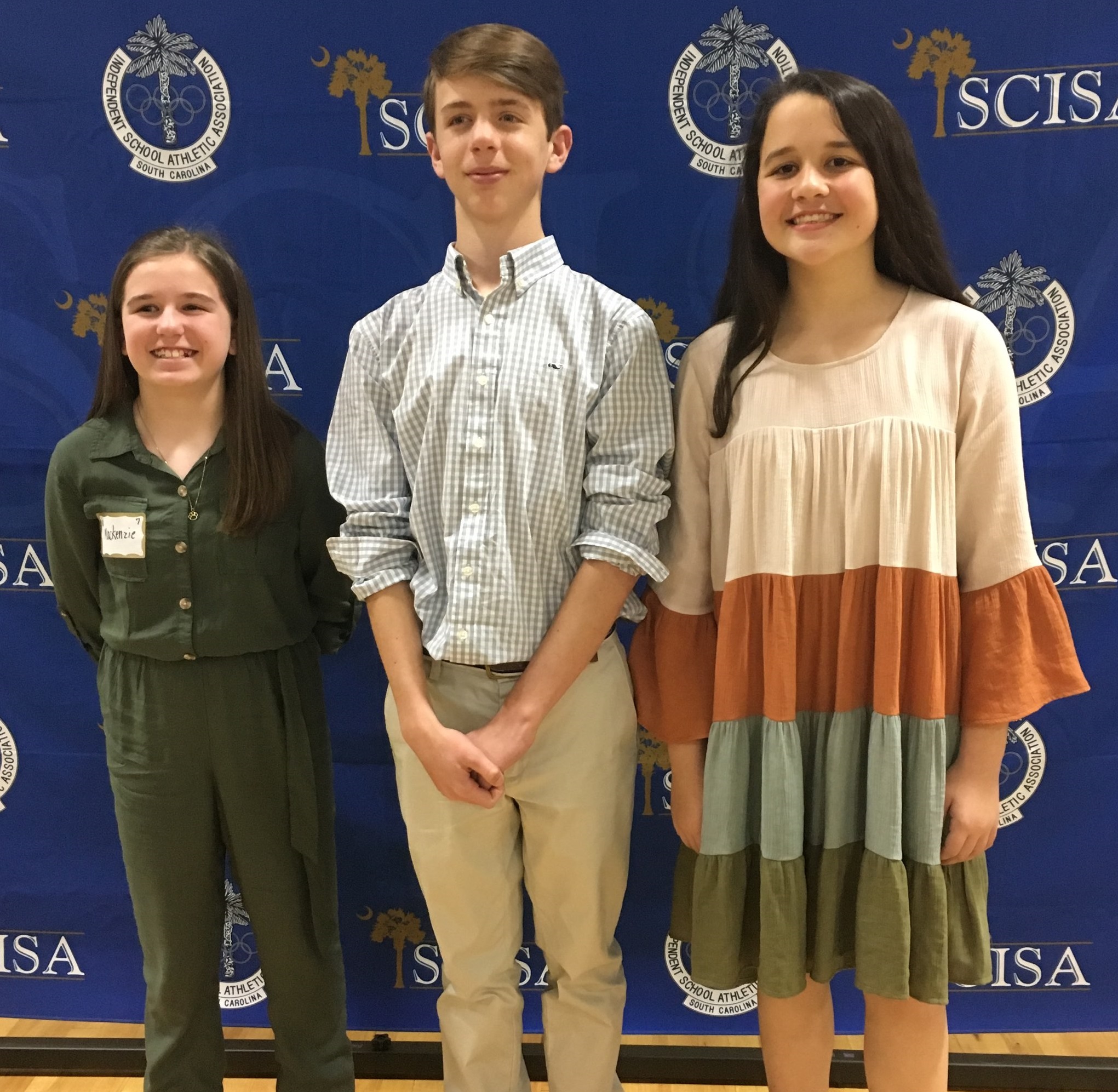 On Thursday, February 13th, 2020, Mackenzie Lane (6th Grade), Jacob Floyd (8th Grade) and Janie Watts (7th Grade) represented PDA in the SCISA State Spelling Bee at Williamsburg Academy.

8th Grade Field Trip - Pathways 2 Possibilities
On Thursday, February 6th, the PDA 8th graders attended the
Pathways2Possibilities
Career Expo at the Myrtle Beach Convention Center. Professionals from 19 career pathways engaged the students with hands-on activities in their various fields.
They also share what life is like in their jobs and the training and education that is required.
| | |
| --- | --- |
| 5th & 6th Grade State House Visit | Student Council Officers State House Visit |
| | |
| On Friday, January 31st, the PDA 5th & 6th graders toured the South Carolina State House in Columbia. Their tour was lead by PDA Alumnus Ryan Brewer (Class of 2019). | (L to R) Sponsor Wendy White, Chaplain TJ Smith, Treasurer Breigh Richardson, Secretary Leevi White, President Bailee Elvington, Vice President Harley Carter |
2020 SCISA Regional Spelling Bee
Congratulations to all the 3rd through 8th grade students who competed in the SCISA Regional Spelling Bee January 15th @ Florence Christian School.

Special congratulations to Mackenzie Lane (6th Grade), Janie Watts (7th Grade), and Jacob Floyd (8th Grade) who will be representing PDA in the State Spelling Bee February 13th @ Williamsburg Academy.
Spelling Bee Participants


3rd Grade

: Wilson Small, Lauryn Williams

4th Grade

: Bailey Brown, Lauren Lambert


5th Grade

: Sarah Bethea, Payton Pace

6th Grade

: Sydney King, Mackenzie Lane


7th Grade

: Dalton Watts, Janie Watts

8th Grade

: Jacob Floyd, Anna Hasty
2019 Marion Christmas Parade
2019 Senior Physics Trip to the Richard B. Russell Dam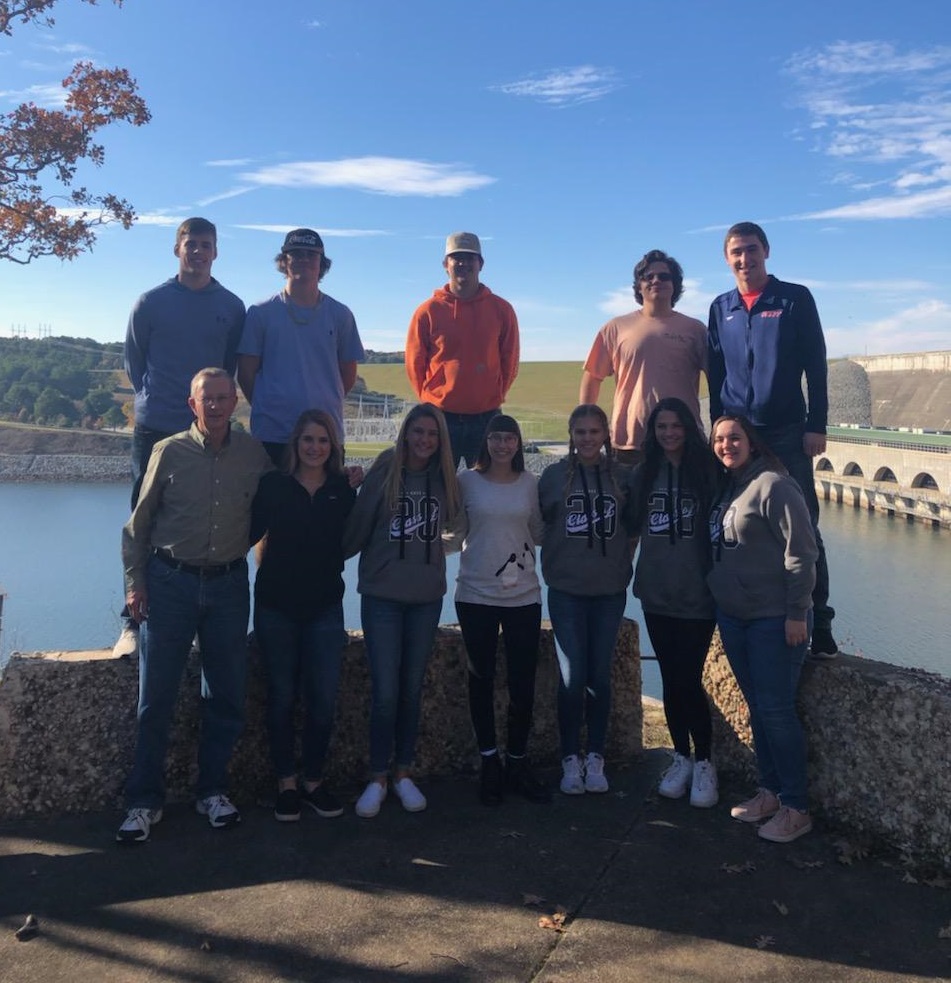 2019 6th Grade Trip to Camp Leopold
Class of 2020 Senior Parking Spaces
2019 Senior Trip to Carowinds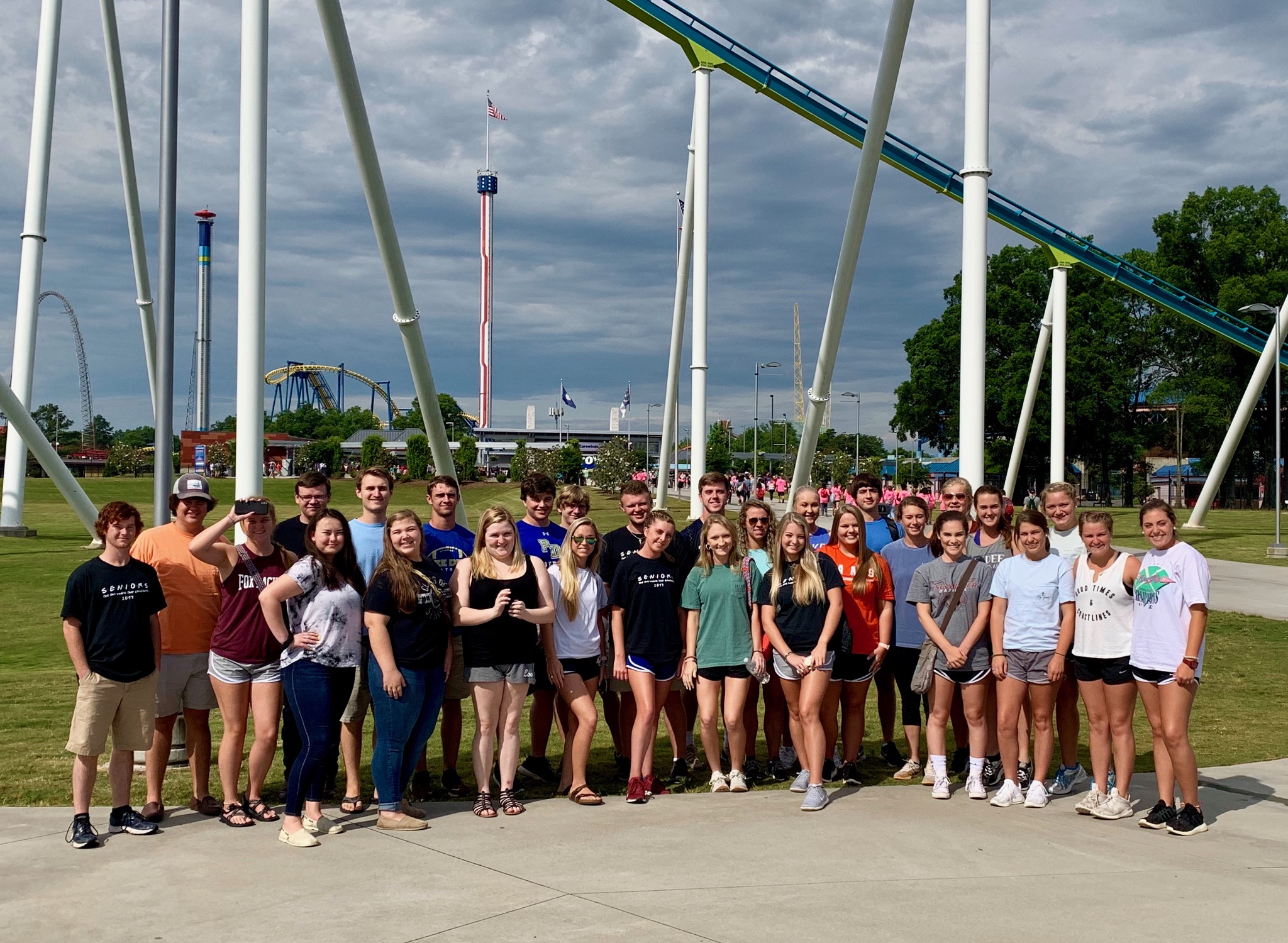 STEM Projects in Ms. Polly's Physical Science Class
5th & 6th Grade Musicals

The 6th Grade musical was called Jukebox Time Machine. Students traveled back in time to discover music of the Oldies. Students had a blast singing and dancing to "Splish Spash," "Dancing Queen" and "Don't Stop Believin'" to name a few.

The 5th Graders discovered there was more than one way to travel during the United States' westward expansion. Covered wagons, a new railroad and a fancy steamboat were the most popular modes of transportation during that time. Students also learned that gold is more than coins and jewelry; real gold is discovered in the ideas and inspirations derived from the opportunity provided by new lands, fresh starts and attainable dreams in the promises of the land of the free.
2019 Physics Classes Bridge Projects
2019 Student Council Convention

Monday, March 4th & Tuesday, March 5th @ The Landmark Resort
2018-19 Middle School Quiz Bowl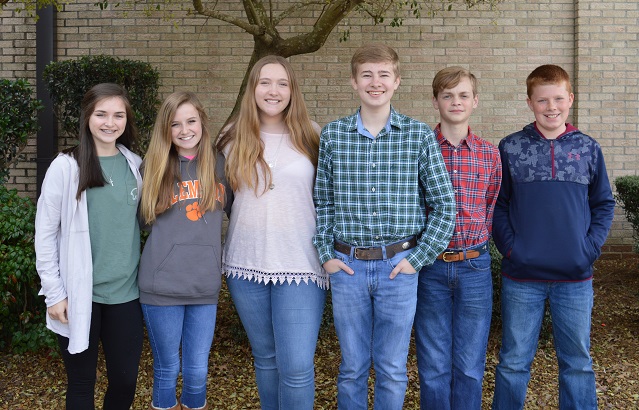 The Middle School Quiz Bowl Team competed in Sumter on February 6 against St. Anne and St. Jude Catholic School, St. Anthony Catholic School, and Dorchester Academy. Team members included Captain Ella Thomas, Christian Mincey, Sidney Divine, Eli Meetze, Anna Hasty, and Marshall Emerson.
Class of 2019 Parking Spaces
Class of 2018 College Decision Day

Francis Marion

Florence-Darlington Tech

Horry-Georgetown Tech

Coastal Carolina University

University of South Carolina

Lander

Winthrop

Abilene Christian

Clemson

Anderson

The Citadel

Catawba County CC
Mrs. Tammy Turner and Caj from the Marion County Sheriff's Department visited our Lower School Thursday, May 3rd. Caj is the new therapy dog in our county who specializes in helping children and adults. Thank you to the Sheriff's Department for the great visit!
5th Grade Play "Joust" - April 30, 2018
Upper School Field Day - April 27, 2018
Mr. PDA - April 12, 2018
Congratulations to our 2018 Mr. PDA Mason Hasbrouck

Thank you to Meghan Miller from WBTW TV-13 for being our emcee.
Honor Society Tap-In ~ Tuesday, March 20, 2018

Senior Class Honor Society Members
(L to R) Mallory Carter, Cami Godbold, Madison Elvington, Bree Ammons, Chloe Jackson, Dalton Buffkin, Taylor Pike, Lauren Garris, Greyson McIntyre, Sarisha Menon, Anna Grace Johnson, Brittany Moore, Lindsay Martin, Jonathan Lancaster
(Not pictured: Summer Calhoun, April Lewis)

Junior Class Honor Society Members


(L to R) Ryan Singletary, Kayla Neidermeyer, Reese Webster, Caroline Howard, Rachael Webster, Harrison Watts, Mollie Woodle, Michael Martin, Sally Brown, Briar Spivey, Lauren Eskridge, Dylan Hotaling, Zoe Smallwood, Ryan Brewer
(Not pictured: Madison Baxley, Lacy Johnson)

Sophomore Class Honor Society Members


(L to R) Bailee Elvington, Noah Lewis, Meredith Lane, Connor Gasque, Elizabeth Smoak, Jillie Buffkin, Danny Barker, Sydney Miller, Connor Garris, Elizabeth Moore, TJ Smith, Rehanna Menon
(Not pictured: Savannah Collins, Katie Wilson)
2018 SCISA Music Festival

Sophomore Meredith Lane and Senior Wilson Sarvis participed in SCISA 's music festival on March 15. Over 700 students attend the event held at USC's school of music in Columbia. Both PDA students performed piano pieces and earned a Superior rating.

Congratulations to Wilson, Meredith, and their Sponsor Mary Jane Sarvis.
SCISA Regional Spelling Bee - January 24th, 2018 @ Lowcountry Prep

Pictured Above: Christian Mincey, Luke Carter, Hughes Elvington, Gavin Oakley, Cutter Miller, Drew Singletary
Pictured Above: Payton Pace, Ashton Hooks, Sydney King

Christian Mincey (7th grade) and Luke Carter (8thgrade) won their divisions and will be representing Pee Dee Academy at the State Spelling Bee on February 21 at Williamsburg Academy. Ashton Hooks (3rd grade), Sydney King (4th grade), and Hughes Elvington (6thgrade) placed third in their divisions. Payton Pace (3rd grade) and Drew Singletary (8th grade) placed fourth in their divisions. Other students who represented PDA very well include the following: Skylar Polson Garris (4th grade), Isabella Tanner (5th grade), Janie Watts (5th grade), Cutter Miller (6th grade), and Gavin Oakley (7th grade).

Pee Dee Academy finished second overall at the Regional Spelling Bee out of seven schools.
Golden Eagle Physics Club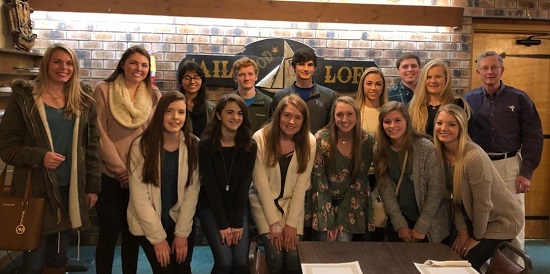 On December 29, 2017, the Golden Eagle Physics Club met at the Dry Dock. The Club gathers bi-annually and includes current and potential members based on 1st Semester grades. Membership requires a 100 year-end average in Physics I or II. There are currently 46 members.
Front Row (L to R)

: Lauren Garris, Taylor Pike, Chloe Jackson, Paige Eskridge, Rylee White, Madison Baxley.

Back Row (L to R)

: Lindsay Martin, Ariel Dutton, Sarisha Menon, Jonathan Lancaster, Dalton Buffkin, Mollie Woodle, Kevin Driggers, Caroline Howard, and Sponsor Ed Ed Blackburn.
2017 Upper School Christmas Sing-Along
2017 Pee Dee Academy Pageant - November 4th
2017 Homecoming Court

(L to R) Brittany Moore, sponsored by Mason Hasbrouck and escorted by Allen Moore;


Madison Elvington, sponsored by DJ Atkinson and escorted by Richard Smith;




Anna Grace Johnson, sponsored by McKinley Smith and escorted by Jack Hulon;




Lindsay Martin, sponsored by Jesse Lane and escorted by Tripp Spivey;




Cami Godbold, sponsored by Frank Drew and escorted by Drew Singletary;




Mallory Carter, sponsored by Brandon Carter and escorted by Harley & Luke Carter
Congratulations to the
High School Quiz Bowl Team!
SCISA Region Champion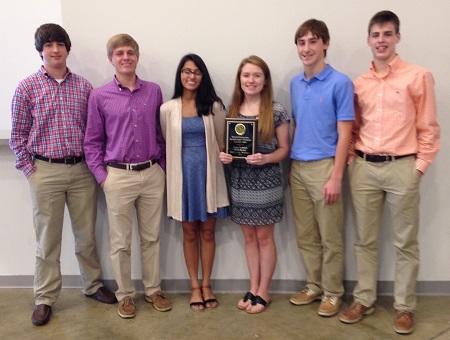 (L to R): Michael Martin, Ryan Brewer, Sarisha Menon, Chloe Jackson (Captain), TJ Smith, Connor Garris
2017 Physics Field Trip -
Richard B. Russell Dam and Powerhouse on the Savannah River (near Abbeville, S.C.)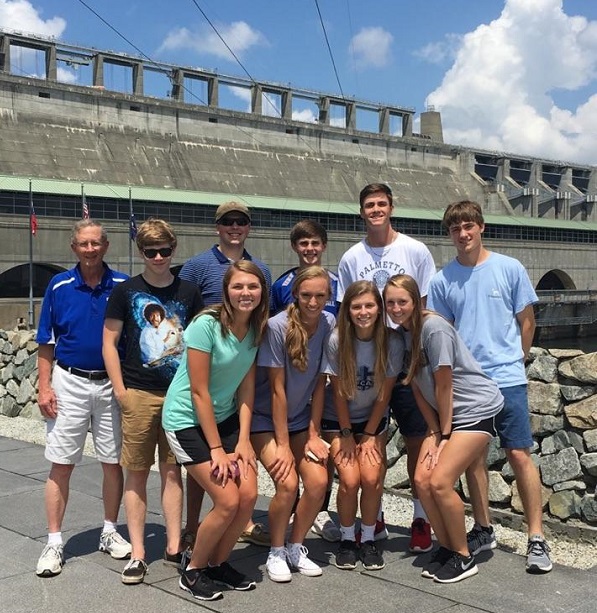 2017 Student Council Convention – Myrtle Beach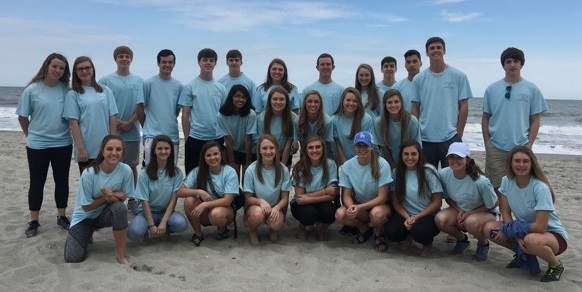 2017 Mr. PDA Pageant
Congratulations to our 2017
Mr. PDA -
Connor Gasque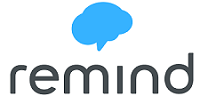 If you would like to receive PDA updates via the Remind text messaging service, please send the message @pdaupdates to the phone number 81010.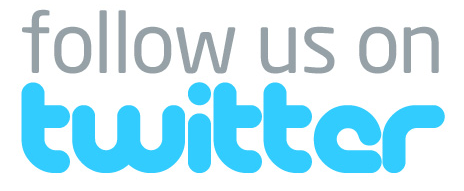 @peedeeacademy
@pdagoldeneagles (athletics)